Belly Casting: 

Many moms are wishing to document their pregnancy in a unique way, and belly casting gives them this option. Late in the 3rd trimester (when the belly is nice and big!!!) the belly and breasts are coated with sheets of plaster to create a life-sized mold of the mother's pregnant body! After the mold dries, she can decorate it, (paint it, write on it, etc) and display it in the nursery, or wherever she chooses, to remind her of the other beautiful body she wore temporarily. 

Basic Plaster Cast, Smooth Plaster Cast, Ceramic Belly Bowls, and Belly Baskets available. 

I am also available to do personalized art on ANY Belly Cast, done by me or not.

$100-$300 (price depends on client ideas and materials needed)
Basic Plaster Cast: rough "crafty" looking appearance, can be decorated with any type of art materials, including the ability to puncture holes easily for bead embellishment etc. Takes approximately 1.5 hours.  In your home or at my home office in Mountain View.

$175 (includes all materials)
Smooth Plaster Cast:  Basic Cast plus additional Plaster to smooth the rough looking appearance.  Much thicker cast can then be decorated and even lacquered for shiny appearance.  Takes 1.5 hours for the basic casting then up to a week to finish with extra plaster and sanding smooth.  

$300 (includes all materials)
Ceramic Belly Bowls:  Basic Cast plus Ceramic Clay overlay to form a bowl from the belly portion of the cast.  Takes 1.5 hours for the basic casting then up to 2 weeks to finish ceramic clay drying and firing.  Bowl can then be painted, glazed and fired for use.   

$250-$300 (depending on your choice for decorating, all materials and firing included)
Belly Basket:  Basic Cast done over the belly only.  Dried and given holes and a supportive and decorative handle. Takes 1.5 hours for the basic casting then up to a week to finish. 

$200 (includes all materials)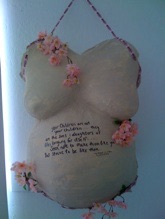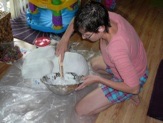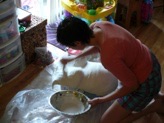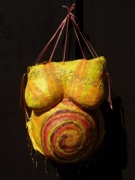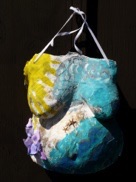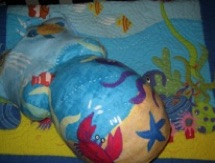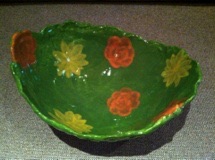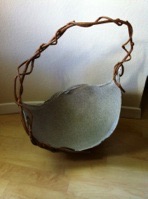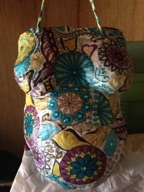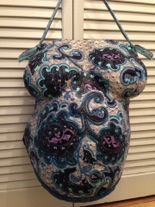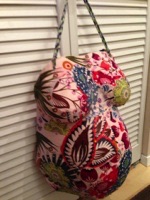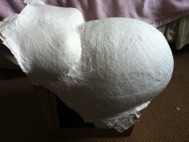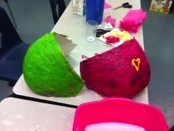 Blessing Way Ritual Preparation: $200-$300
($200 minimum sliding scale depends on any supplies needing to be purchased)
A Blessing way is an amazing way to honor the new life of the parents to be. The ritual is prepared in an individual way that is based upon the parents comfortablitily and wishes. Blessing ways can be a women's only gathering, a gathering for couples, or an opportunity for blessing during a traditional baby shower. Together we decide upon a simple ritual that symbolizes honor, support and positivity for the amazing rite of passage that becoming a parent is. Most rituals include some sort of flow that is planned to include an opening reading of sorts (poem, quote, prayer), a short ritual that typically each person in attendence participates in, and a closing blessing. Each ritural is a completely individual experience, however some of the things I've done are:
~ Blessing Beads: each person attending the event is encouraged to bring a bead that they have picked out with the mother or parents or baby in mind. A string is passed around and as each person attaches their bead to the string a story or blessing is shared.
~ Baby onesie decorating: each person is given a baby onesie with either fabric markers or paints to decorate for the baby. We've also done this with baby socks. All Fabric markers, paints, brushes, stencils are supplied for use, onesies and/or socks are purchased and washed at an exact extra cost to the planning.
~ Weaving the web: We use a soft ribbon or yarn/string wound into a ball. Attendees stand in a circle. One end of the string is wrapped around the wrist or ankle of the mother/father to be, and then passed to each person around the circle. As each participant receives the yarn they wrap the yarn aound their wrist and are encouraged to share a quote or blessing for the parents. All participants are encouraged to wear the yarn bracelet/anklet until they hear that the parents have had their baby and have reached out to communicate and/or help the parents with the new baby.
~ Candle community: We use a large pillar candle that the Parents keep, it is lit and each participant will light a small votive candle from it, symbolizing connection to the parents and baby. Each person takes a candle home and someone is given the task of calling the candle community when the parents go into labor, so that the candles can be lit and the parents can be held in positivity while they are in labor.
~ Belly cast signing: mom completes a belly cast before the ceremony. The cast and all materials to decorate it are made available to guests at the event. I also supply a few quote books, poem books along with markers, stencils, etc.